1 Ottobre 2013 - 30 Settembre 2014 - Trasmissione radio WFMT Speciale Centenario
The WFMT Radio Network - "Centenary - Tito Gobbi, Master Singer"
This centenary special on the life of Tito Gobbi will be available for two plays, from October 1, 2013 thru September 30, 2014
Radio New Zealand Concert and the WFMT Radio Network present Tito Gobbi, Master-Singer - A Centenary Celebration, a documentary profile of the legendary singer/actor Tito Gobbi at the 100th anniversary of his birth with contributions from:
Soprano Renata Scotto
Bass-baritone Ruggero Raimondi
Conductor James Conlon
Former General Director of the Lyric Opera of Chicago, William Mason
Former General Director of the Royal Opera House Covent Garden, Sir John Tooley
Former Opera Director at the Royal Opera House Covent Garden, Paul Findlay
Cecilia Gobbi, daughter of Tito Gobbi
Lady Valerie Solti, widow of conductor Sir Georg Solti
EMI Classics historian, Tony Locantro
And Tito Gobbi in conversation with Studs Terkel, from the Archives of WFMT and the Chicago History Museum
Tito Gobbi sings excerpts from:
Mozart - Don Giovanni
Verdi - Rigoletto, La traviata, Don Carlo, Simone Boccanegra, Otello, Falstaff
Puccini - Tosca, Gianni Schicchi
Berg - Wozzeck
And excerpts from Tito Gobbi's Master-class on Puccini's Tosca
Tito Gobbi was born on October 24, 1913 in Bassano Del Grappa and studied law at the University of Padua before he trained as a singer. Giulio Crimi, a well-known Italian tenor of a previous generation, was Gobbi's teacher in Rome. He made his operatic debut in Gubbio in 1935 as Count Rudolfo in Bellini's La sonnambula. In 1942 he debuted at La Scala in Milan, in the role of Belcore in Donizetti's L'elisir d'amore. He also appeared at the Rome Opera and other significant Italian venues.
Gobbi's international career blossomed after the Second World War, with appearances in 1948 at the San Francisco Opera. He performed for the first time at London's Royal Opera House, Covent Garden, in 1950 and sang with the Lyric Opera of Chicago from 1954 until 1974. 1974 also saw the last of Gobbi's numerous appearances at Covent Garden, where he had been much admired by the public and critics alike for his sensitive musicianship, as well as for his acting talent and interpretive insights.
In his early career he appeared in a number of motion pictures, including some filmed operas such as The Barber of Seville and also the popular 1948 British drama set in wartime Italy, The Glass Mountain. Tito Gobbi retired in 1979. By this juncture, he had acquired a repertoire of almost 100 operatic roles. They ranged from Figaro through Donizetti, and the standard Verdi and Puccini parts, to Wozzeck. By the time of his death in 1984 in Rome, he had appeared in some 25 films, in both singing and speaking parts.
Website link:
http://www.wfmt.com/main.taf?p=12,11,60
News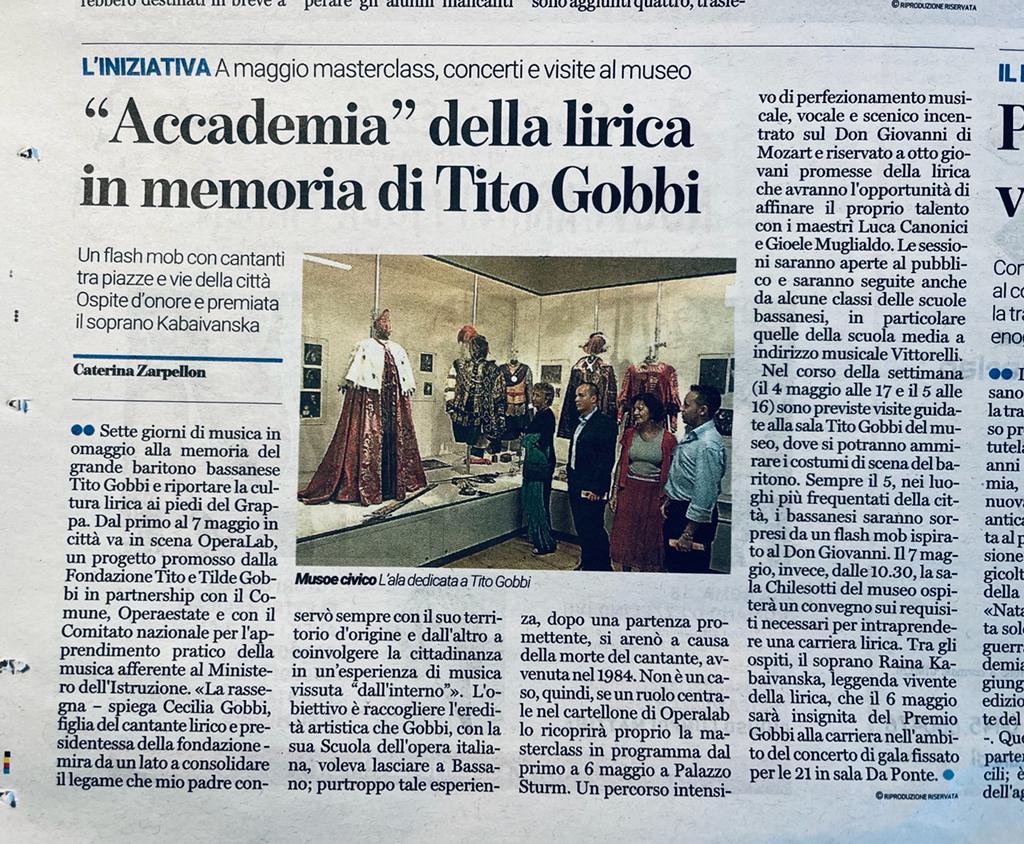 Il giornale di Vicenza – 22 aprile 2022
News dalla Fondazione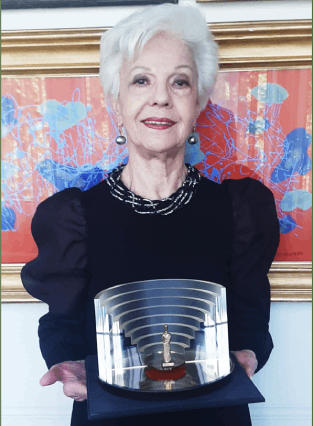 Premio Tito Gobbi alla Carriera 2022
Raina Kabaivanska