A Royal Opera House Covent Garden website tribute: 100 years since the birth of Tito Gobbi – 24 Ottobre 2013
A look back at the career of the admired operatic baritone.
24 October 2013 at 10.32 AM
Today marks 100 years since the birth of the much-admired operatic baritone Tito Gobbi, one of the 20th century's greatest operatic singers and actors. Gobbi, who made his operatic debut at the age of 22 in the small town of Gubbio (singing the role of Count Rodolfo in Bellini's La sonnambula), performed in opera houses across the globe from 1935 until his retirement in 1979, building up an impressive repertory of over 100 roles.
He was perhaps most famous for his charismatic interpretation of the evil chief of police Scarpia in Puccini's Tosca, and his pairing with the legendary soprano Maria Callas in this opera is commonly regarded as one of the operatic highlights of the post-war era. During one performance at Covent Garden, Gobbi had to remain in character as Scarpia while extinguishing a flame with his bare hands when Tosca's dress caught fire from a nearby candle. A recording of their performance is available from the Royal Opera House Online Shop.
Despite his stellar success as an opera singer, Gobbi's talent was not spotted until he had finished school. 'I was told not to sing in the school's choir concert', he explained in an interview with Roy Plomley on Desert Island Discs. 'I was always out-of-tune and so the choir-master told me to mime – that was my debut in the chorus!' Gobbi enrolled to study Law at the University of Padua, but soon abandoned his course in order to study singing with renowned Italian tenor Giulio Crimi in Rome. He went on to work with coaches in La Scala. He wryly described his first appearance there (when he was asked to replace a singer in a minor role in Pizzetti's Oreseolo) as a 'disastrous debut': unsure of when he was supposed to enter, he rushed onstage early, interrupting the aria of the lead singer. His many subsequent performances for La Scala were far more successful, and included a much-praised performance as the title role in the Italian premiere of Berg's Wozzeck.
His performances of Italian opera were also acclaimed including appearances as Figaro (Il Barbiere di Siviglia), Giorgio Germont (La Traviata), Iago (Otello), Marcello (La bohème), Scarpia, Jack Rance (La fanciulla del West), Michonnet (Adriana Lecouvreur), Carlo Gérard (Andrea Chénier), and the title roles of Verdi's Macbeth, Rigoletto, Simon Boccanegra and Falstaff, and Puccini's Gianni Schicchi. These last two roles made fine use of Gobbi's gifts as a comic actor. Gobbi also created several roles in Italian operas.
In the 1950s and 60s, at the height of his career, Gobbi also turned his hand to producing. His own production of Verdi's Simon Boccanegra, in which he sang the title role, was performed by The Royal Opera in 1965. Gobbi's other roles for The Royal Opera included Rigoletto, Falstaff, Iago, Posa (Don Carlo), Count Almaviva (Le nozze di Figaro), Don Giovanni and, of course, Scarpia. Both as a singer and as a director, Gobbi was renowned for his professionalism and for his warmth and kindness towards his fellow-singers.
Retiring in 1979, Gobbi left a significant legacy of recorded performances. His recording of Verdi's Nabucco is available from the Royal Opera House Online Shop. He also wrote and published two books: an autobiography, Tito Gobbi: My Life, and Tito Gobbi on His World of Italian Opera.
He passed away in 1984 at the age of 68. His daughter Cecilia runs the Associazione Musicale Tito Gobbi, devoted to celebrating her father's contributions to opera.
by Lottie Butler (Assistant Content Producer)
Website link:
http://www.roh.org.uk/news/a-tribute-100-years-since-the-birth-of-tito-gobbi
News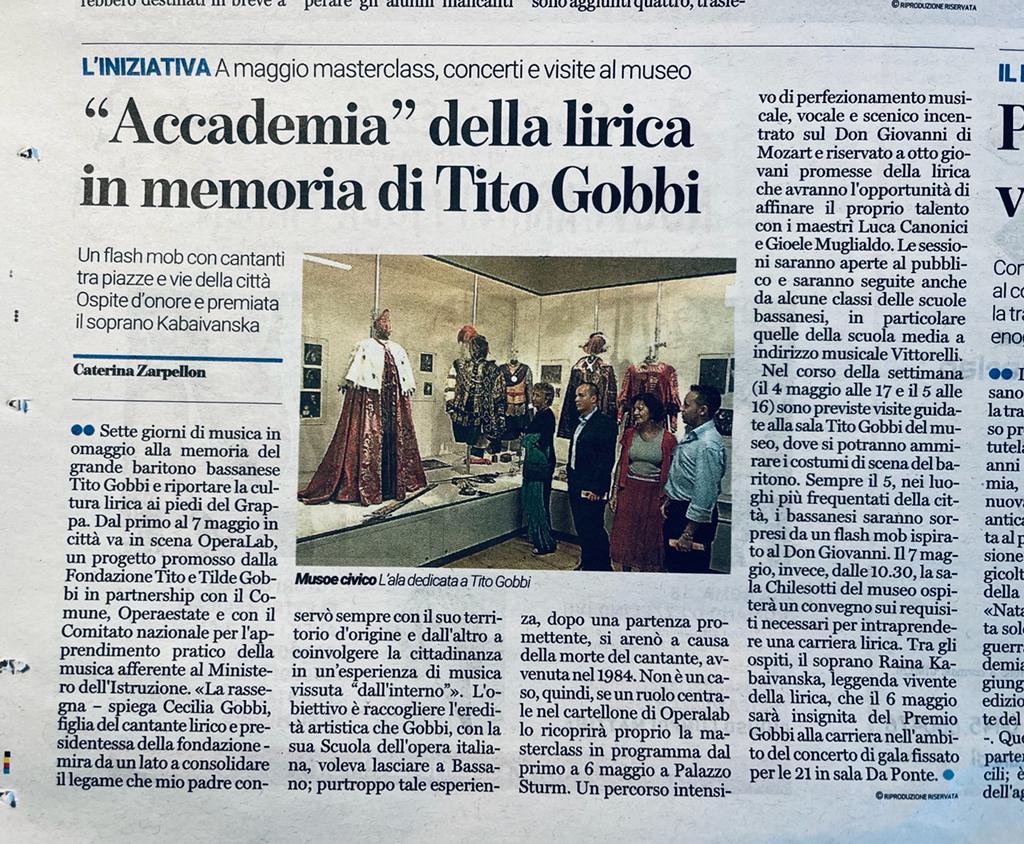 Il giornale di Vicenza – 22 aprile 2022
News dalla Fondazione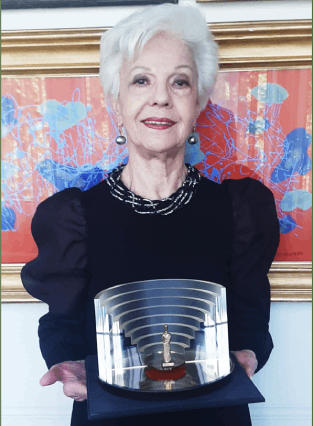 Premio Tito Gobbi alla Carriera 2022
Raina Kabaivanska